Best of Met – Hummingbird Cake
HUMMINGBIRD CAKE
Take a stroll over to our bakery to spot this towering confection: layers of spice cake packed with caramelized banana, crushed pineapple, and chopped pecans, all baked together and lovingly enveloped in the best penuche frosting you've ever tasted. This Caribbean classic has famous Jamaican roots, before it made its way to the States and became a Southern sensation. And how did it make its way to our bakery? One of our very own bakery team members shared their family recipe, and after one taste, we never looked back.
"It's my first time trying Hummingbird Cake, which is a banana-pineapple spice cake with cream cheese frosting that's common in the South. I've found a new favorite at Met Market!"
—Instagram User, @sea.taste.test
Packed with nuts and fruit, this special batter must be mixed with care. Blend too much and you run the risk of diminishing its dense, yet delicate, texture.
Instead of icing ours with cream cheese frosting, as tradition calls for, we ice our Hummingbird with a decadent brown butter and brown sugar frosting, called penuche. You could eat this frosting by the spoonful!
Looking for a small bite of some big Southern flavor? Try our Hummingbird cupcakes, or as we lovingly call them, "Baby Birds."
Read on to discover the full story of the Hummingbird Cake.
#bestofmet
We'd love to see where and when you indulge—tag your Hummingbird Cake with #bestofmet­.
@crystal_coralles
@sea.taste.test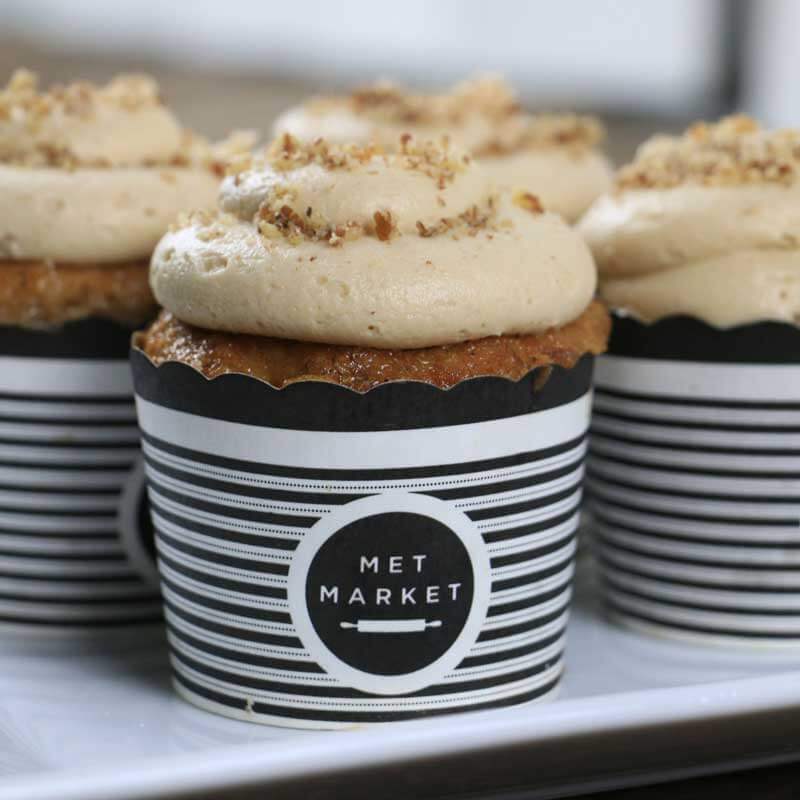 A Crave-Worthy Confection
It towers over our bakery, a cake worthy of a king in all of its massive, unapologetic glory. Decadent, dense, and moist, it's almost as rich in flavor as it is in history. This is Met Market's famous Hummingbird Cake.
The cake gets its name from Jamaican roots, where the national bird is, you guessed it, the hummingbird. The tropical spice cake made its way to the states, where a Mrs. L.H. Wiggins from North Carolina submitted her tried-and-true Hummingbird recipe to Southern Living Magazine in the 1970s, and just like that, this Caribbean classic became a sensation, and remains the most requested recipe in the magazine's history.
While the original recipe is the stuff of baking legend, ours came from our own Met Market family. In 2017, the bakery manager at the Tacoma store was chatting with one of the cake decorators, reminiscing over childhood memories that were full of this scrumptious cake. A craving soon hit them both. To the kitchen they went, and it wasn't much longer before customers began to flock to our bakeries to satisfy their own craving for a slice.
So, what exactly goes into this larger-than-life confection? Grab a slice and you'll see four layers of cinnamon spice cake crafted from caramelized banana, crushed pineapple, and chopped pecans, stacked and enveloped in sweet frosting and garnished simply with crunchy pecans. As our bakery staff can tell you, the Hummingbird Cake batter must be mixed carefully; too much blending will diminish the unique texture of the nuts and tropical fruit. Taking the whole creation over the top is the penuche icing, a dense brown butter and brown sugar frosting that could be a dessert in and of itself.
Today, Met Market is the only place we know of in Seattle to enjoy this Southern favorite, a cake that's invitingly bright and tropical, yet overflowing with that famous Southern comfort. One bite and we're betting you'll be humming along to the tune of this cake for years to come.