Around the Store
Now Brewing
Coffee we're drinking
March 9, 2023
|

by Metropolitan Market and Caffe Vita
It's no secret that the Puget Sound region takes coffee seriously, and Metropolitan Market does too. Whether you're into a half-caff-extra-foam caramel macchiato, dirty soy chai, or single-origin black drip coffee, we've got your java!
Metropolitan Market Cafés feature small-batch, single-origin drip coffee from our friends at Caffe Vita. The selection rotates frequently, so check in often to see what's brewing.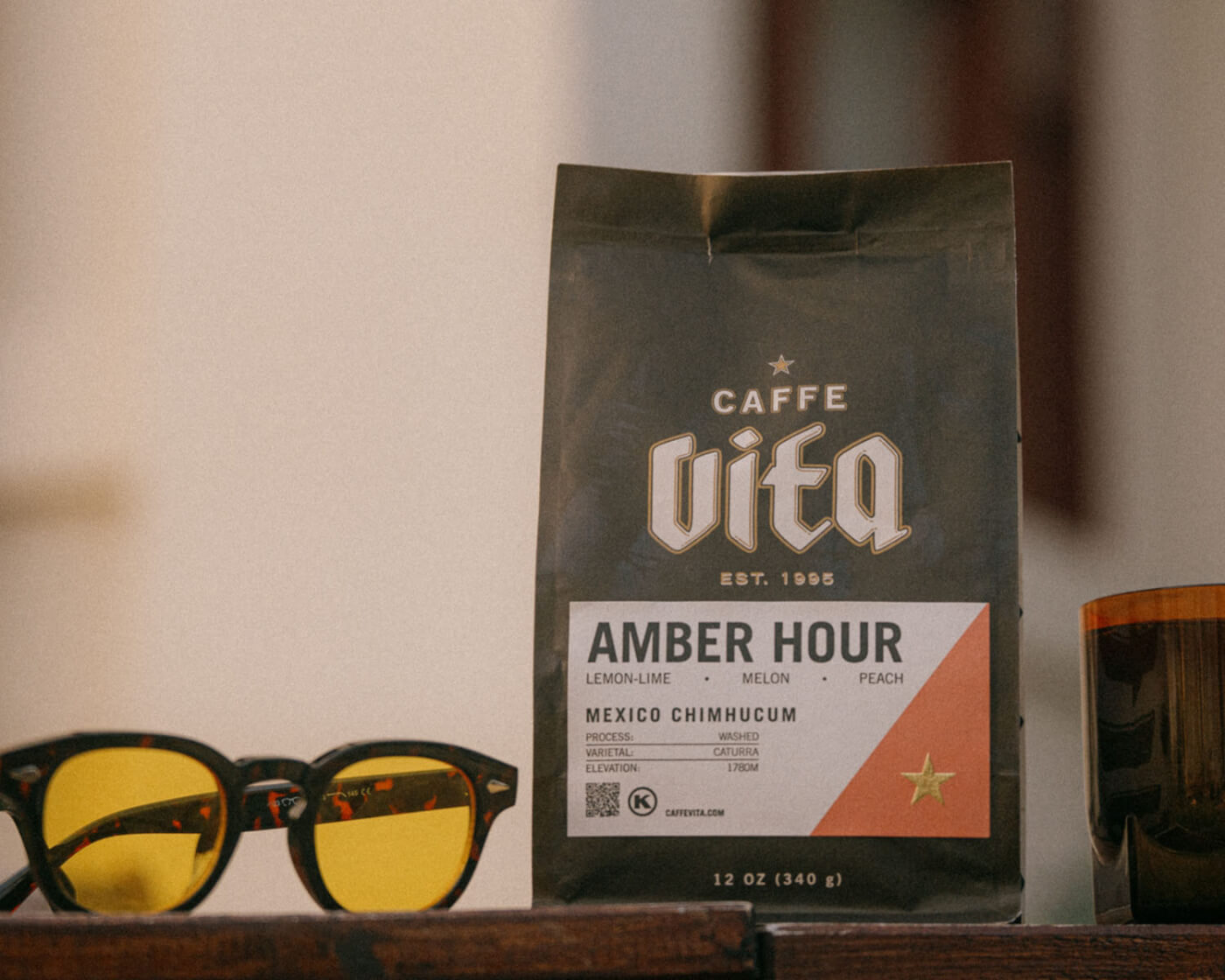 Amber Hour
Brewing July – September
Fade into the endless sunset of Amber Hour, our new July single origin. A washed processed from Mexico, this coffee is produced by a group of smallholder farmers in the settlement of Chimhucum ("Two Rivers" in the Tzotzil language) located in the Los Altos highlands of Chiapas, Mexico's southernmost state.
Amber Hour is comprised of Sarchimor, Caturra, and Catuai varietals, grown under shade trees on the farms of Chimhucum. Chimhucum is in the highest region of Los Altos, and climate patterns are characterized by cold and humid weather for much of the year. The resulting micro-climates of the region allow coffee cherries in Chimhucum to mature slowly, resulting in exceptionally nuanced tasting notes in the cup.
Producers in Chimhucum rely on traditional artisanal processes such as hand depulping, fermentation tanks, and sun drying. While producers use these methods for all their coffee cherries, no coffee is processed exactly the same – with Amber Hour utilizing a 6-12 hour fermentation as opposed to the typical 12-24 hour fermentation. Producers found that this shorter fermentation time resulted in a more developed cup profile.
Amber Hour captured our attention for its bright acidity, medium body, and fruity flavor notes. The high-altitude
regions of Chiapas provide the right amount of sunlight and rainfall, and combined with the producer's meticulous washing process, perfectly highlight the delicate acidity inherent to this coffee. With all of these variables at play, you are left with a coffee that showcases tasting notes of lemon-lime, melon, and peach.
Much like the golden hour before the sun sets, time is a crucial component to this coffee's essence. A shortened fermentation allows only a small window of time for this coffee's profile to be fully showcased, like a photographer racing to capture perfect light. The result of these producer's efforts is a cup of delicate amber coffee that is sure to impress anyone looking for their next morning mug.
Daisy Haze
Brewing April – June
Daisy Haze is a natural processed coffee grown in the Birbirsa region of Ethiopia. Since it is grown at higher altitudes, this coffee develops a uniquely complex & nuanced flavor profile. Daisy Haze got its name from the tasting experience we had when cupping this coffee – a combination of vibrant florals, delicate citrus notes, and heavy honey sweetness. Birbirsa is known for producing some of the finest coffee in the world, and Dazy Haze is no exception.
The natural processing method used to produce Daisy Haze is also a key factor in its distinctive flavor profile. Natural processing involves drying the coffee beans with the fruit still intact, which gives the coffee a fruity and floral flavor. This method is more time-consuming and labor-intensive than other processes, but it results in a coffee that is truly unique and delicious.
Once picked, the coffee cherries are sent directly to a raised drying bed, and lay there for 22-25 days. The raised beds help create a consistent and controlled drying experience, by allowing air to circulate through the coffee cherries, resulting in a clean and crisp cup profile.
When you first taste Daisy Haze, you will notice its bright and fruity flavor. The coffee has a distinct floral aroma, with notes of white blossom. After your first sip, you will detect the sweet and juicy flavors of lemon and berry notes. The coffee has a medium body that is complimented by a smooth finish, with a slight acidity that balances out the heavy honey sweetness.
Daisy Haze is a coffee that is best enjoyed black, as it allows for the natural flavors to shine through. It can also be enjoyed with a splash of milk or cream, which enhances the sweetness and creaminess of the coffee. Its complex flavor profile and nuanced characteristics make it a coffee that is worth trying for yourself. Whether you are a coffee connoisseur, or just someone who enjoys a solid cup of coffee, Daisy Haze is sure to impress.
Rose Gold
Brewing January – March
Caffe Vita: "The Nicaragua from La Bendición is not new to the Caffe Vita offering list. Last year, we were able to share a washed Pacamara which presented itself as a very approachable profile for our guest following. This year, we wanted to take a step on the wild side with a natural processed coffee from their offerings.
Luis Alberto, owner of the La Bendición micro-mill, offers natural process coffees that we look forward to cupping each time. They carry similar flavors as their washed counterparts but were complemented with a heavy sweetness and super creamy body. The natural process lots we selected showcased flavors of lime, peach, apricot, and cocoa nibs. The body was so creamy and coating, it reminded us of a custard or key lime pie.
Luis Alberto is highly respected in his community for his attention to detail and quality. He is surrounded by a whole community of producers, yet he stands out for his expertise and ability to produce outstanding coffees, like the ones we will be adding to our menu. As a company, our goal is to mirror his dedication to quality with how we source and roast coffees, whether it is Del Sol or one of our producer-specific single-origin coffees."
Don't Forget a Donut
Coffee and doughnuts, one of the all-time great combinations. Ours come from Milkvue Handcrafted Donuts in Gig Harbor and, wow, are they good! Staff tip, try the purple one—it's ube!
To-Go is Still Green
We serve coffee and tea in proper cups with saucers but if you have to go, don't feel guilty, our to-go cups and lids are compostable!