Our Experts
Dino Medica
August 11, 2023
|

by Cameron Ito
It's not every day you come across someone who's dedicated their whole career to mastering a single industry, making a significant impact on numerous programs, all while maintaining a down-to-earth attitude and recognizing the value of continuous learning. Enter Dino Medica, a true rarity in this regard, and the driving force behind Metropolitan Market's well-earned reputation for unwavering quality, expertise, flavors, and the overall standards we all expect whenever we step into the store. With over 40 years of experience, it's no wonder we are fortunate to see some of the best produce come through our doors and shared with the communities we serve through every season.
Seed Selection
While the thought of following in his father's footsteps as a firefighter crossed Dino's mind at a young age, it was ironically his father who nudged him in a different direction that would set the path for his future. Dino's father was a friend of Metropolitan Market's founder, Terry Halverson, and his mother frequently took part in panels for the company, trying out products and providing feedback. The Medica family were big fans of the store, so it was no surprise that when Dino was old enough to get a job, he jumped in as a courtesy clerk at the original Upper Queen Anne location in the 1980s.
Cultivating Quality
In just six short months, Dino smoothly transitioned to the Produce Department, and he immediately rolled up his sleeves, ready to get to work. Looking back on those days, Dino fondly recalls a time when things were more hands-on. He remembers local strawberry season vividly — personally helping to rent a van, picking up the family who owned the farm, driving to the farm on Vashon, picking strawberries, and delivering them to the store. He did this every day, for two weeks straight! It was this experience that marked his first steps as a leader in the company, something he holds dear to his heart. "I've always been ready to help and do whatever is necessary." Later, he was promoted to Produce Manager, transitioning to the Admiral (West Seattle) store. It was during this time that Dino also embraced family life, marrying, and eventually welcoming two children. Dino remained at West Seattle for the next ten years before another opportunity would arise, one that would temporarily pull him away from Metropolitan Market.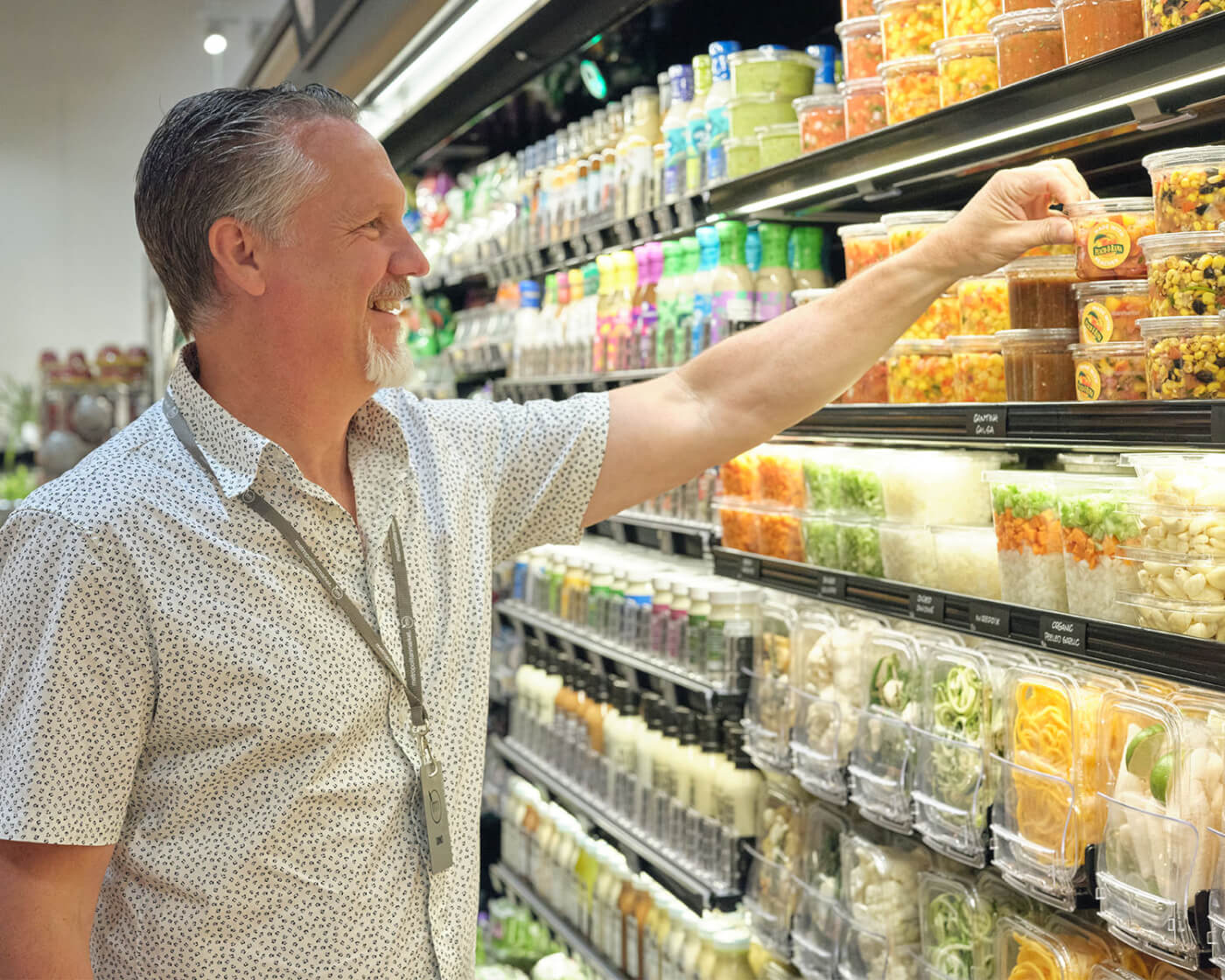 Harvesting Knowledge
In 1999, Dino left Metropolitan Market for an opportunity to expand his skills and knowledge. Although he eventually returned, his time at a different grocery store enriched his professional growth. Beginning as an Associate Coordinator and later ascending to the head of Procurement for their warehouse, Dino played a pivotal role in creating a marketplace for a new grocer entering the Northwest. In just a decade, his efforts led to the successful launch of 15 new locations. Then, in August 2008, an unexpected call from Terry changed everything. Dino was offered an exciting chance as a Produce Specialist. The following year, he happily returned to Metropolitan Market, drawn by the freedom and flexibility in his role's leadership. He expresses his admiration for Metropolitan Market's emphasis on people over mere numbers, making his journey back all the more fulfilling.
Picking the Right One
Metropolitan Market's commitment to the highest quality is a direct result of Dino's attention to detail and thoughtful approach to selecting the best product. Dino explains, "I need to see it firsthand before I ever commit to anything. I want to know the quality and, just as importantly, the taste. Along the same lines, I want to know the grower, building trust and relationships with whomever we work with." This mindset leads him to source unique and hard-to-find produce like creamy sharwil avocados from Hawaii, locally grown jumbo 7-row cherries, and irresistibly sweet alfonzo mangoes. And let's not forget the tried-and-true favorites that our guests love year after year, such as Walla Walla onions, plump local berries, Peach-O-Rama peaches, and the Holiday Pear. "It really comes down to flavor, and the best possible fruit or vegetable we can bring in to share with our guests."
Advice to Others
For those looking to pursue a career in the produce industry, Dino emphasizes the ongoing education that comes with it. There is always something new to keep up with, so you need to be quick to learn and willing to adapt to changes. Dino also credits his success to his amazing mentors. Over the last 40 years, they helped support his growth and helped him become the leader he is today. So, if you're up for an ever-evolving adventure and some fantastic guidance along the way, the produce industry could be your perfect fit!