101
Pantry Essentials 101
20 Essentials for a Well-Stocked Pantry
March 23, 2022
|

by Jess Thomson
Building a well-stocked pantry isn't usually something we do all at once. It's a process, one that always starts with good intentions but sometimes ends with us staring into the depths of our shelving, wondering why we have two unopened bottles of Worcestershire sauce and sixteen types of flour, but no dinner. Turn your pantry into your own mini grocery store by stocking it intentionally, and by reliably refilling what you use each time you shop. Start with our twenty basics, which are frequently recruited for dinners launched by something from the fridge, freezer, or garden. Since they can be combined on their own for meals that really do all come out of the pantry, smart stocking can also extend the time between trips to the store and increase flexibility in your nightly dinner schedule. Bonus: they might also introduce new-to-you ingredients that spice up your cooking routine.
SHORT AND LONG PASTA SHAPES
It's one of the first things most of us learn to make. But while it may seem pedestrian, pasta earns its spot at the top of quick dinner lists because it's easy, inexpensive, and flexible. Using bronze die-cut dried pasta, like Metropolitan Market pasta, helps sauce cling to noodles for an extra punch of flavor. Stick to your favorite combinations or break out of your usual pasta rut by using noodles you know in new ways. Experiment with using spaghetti for chow Mein or linguini with peanut sauce to make pad Thai. You can also add orzo or small shells to soups.
SHORT- AND LONG-GRAIN WHITE RICE, SHORT- AND LONG-GRAIN BROWN RICE
Stock multiple types of rice for variation. Short-grain white or brown rice is great for sushi and as a bed for stir-fries, while long-grain white rice is ideal for serving with Thai or Indian curries. Short or long-grain brown or black rice makes a great base for endless variations of assembled bowls.
QUINOA AND CORNMEAL
Having a variety of grains on hand makes quicker dinners look a lot more diverse. Protein-packed quinoa is a great base for salads, grain bowls, and soups, and it's just as easy to cook as rice or pasta. Cornmeal can be used to make grits, polenta, or cornbread and it's helpful for homemade pizza.
CANNED CHICKPEAS, WHITE BEANS, AND BLACK BEANS
Besides being an affordable, nutritious way to add protein to any diet, canned beans are super versatile. Add canned chickpeas to salads or whirl them into homemade hummus. Drop white beans into soups and stews. Black beans boost quinoa/rice bowls, breakfast burritos or chili.
LINE-CAUGHT TUNA
While canned tuna is a longtime go-to for quick sandwich makings, it's also useful at dinnertime. Our Metropolitan Market canned tuna is cut from the loin, and cooked in the can, for superb flavor. Try stirring flaked tuna into cooked rigatoni with tomato sauce, olives, and feta, or make pantry sushi with nori sheets, short-grain rice, and tuna salad. It's great in green salads or on pizza, too.
WHOLE NUTS AND PEANUT BUTTER
Nuts are a great handheld snack, add crunch to morning yogurt, and make salads more interesting. Find a few you like–almonds, walnuts, pecans, and peanuts are a great place to start. Peanut butter (or any other nut butter) is also a great staple for sandwiches, as a dip for apples, celery, or crackers, or as a base for a quick peanut dipping sauce for tofu or grilled chicken.
KOSHER SALT
Regular iodized table salt often lends a harsh, chemical flavor to foods. Keep kosher salt (such as Diamond Crystal or Morton's) on hand for regular daily use. Note that because of the way the salt is made, 1 teaspoon of Diamond Crystal will taste less salty than 1 teaspoon of Morton's. (Diamond Crystal has about half the sodium of Morton's by volume!)
WHOLE BLACK PEPPERCORNS
Freshly ground pepper has more flavor than pepper that's been pre-ground. Invest in a pepper mill if you don't have one and keep black peppercorns on hand. A few good grinds are all you need for simple dishes where pepper is the star ingredient (say, Salt and Pepper Shrimp or Cacio e Pepe).
PASTA SAUCE AND CHOPPED CANNED TOMATOES
Next time you shop for pasta sauce, slow down; shelf-stable tomato products are kitchen workhorses that drastically cut prep time without sacrificing quality. Lean on Metropolitan Market products, which are imported directly from Italy, for simple all-pantry pasta dinners with cooked-all-day flavor. Recruit chopped canned tomatoes as a base for a simple homemade tomato soup, add them to other soups and stews, and use them for braising meats.
CHICKEN AND VEGETABLE BROTH
Broths add more flavor anywhere you might otherwise use water, like in cooking rice, grains, soups, stews, and meats. For the most control over your cooking, look for types with low or no sodium, so you can adjust the salt to your taste.
SALSA, SRIRACHA, AND CHILI CRISP
Dial up the heat of any dish with a hot sauce that matches the cuisine you're making. Start with some of the most versatile types: For Mexican-inspired meals, salads, and omelets, keep red and green salsa on hand. For Vietnamese or Thai-style curries, dips, or sandwiches, try a Thai-style chili-garlic sauce like sriracha. Szechuan-style chili crisp is delicious on stir-fries, but also great on eggs.
EXTRA-VIRGIN OLIVE, VEGETABLE, AND TOASTED SESAME OILS
A store's oil selection can be intimidating, but there's no reason to bring home one of everything. Start with Metropolitan Market's Mediterranean extra-virgin olive oil, which is balanced just right for kitchen versatility, making it perfect for vinaigrettes and sautéing vegetables. Keep a neutral vegetable oil on hand (which has almost no discernible flavor) for frying and baking. Since many Korean, Chinese, and Japanese recipes use nutty, fragrant toasted sesame oil, it's also a staple.
APPLE CIDER, RICE, AND AGED BALSAMIC VINEGARS
Vinegars add a bright, acidic punch to foods, offering the right counterbalance to flavors that are naturally rich, earthy, or creamy. Try basic apple cider vinegar or mild rice vinegar for vinaigrettes, or as the cornerstone of any pickle project. Or to add acid with a touch of sweetness, use true aged balsamic vinegar, such as Metropolitan Market's authentic Aceto Balsamico di Modena, which comes straight from Modena, Italy. It's delicious drizzled over grilled meats, roasted vegetables, fresh cheeses, and even vanilla ice cream.
SOY, HOISIN, AND FISH SAUCE
Beyond oils and vinegars, many jarred sauces that would be extremely inconvenient to make at home hold the secret to great flavor. Soy sauce, brewed from fermented soy beans and wheat, or its cousin tamari, which is made without wheat and has a richer soy taste but less saltiness, both add deep umami flavor. Hoisin is a thick brown sauce made with soy, vinegar, sugar, sesame oil, and spices, and is often used in Cantonese cooking. Fish sauce, made from dried anchovies, gives an earthy, salty flavor to foods, and is essential for Vietnamese and Thai dishes.
KETCHUP, DIJON MUSTARD, AND MAYONNAISE
In addition to their usual roles at a hamburger joint, the three most classic condiments can help in daily cooking, too. Keep ketchup around to make homemade barbecue sauce, cocktail sauce, or pad Thai. Dijon mustard is good for vinaigrettes, pan sauces, and marinades. Mayonnaise is a great binder, which makes it great for chicken or egg salads, but also try it slathered onto the outsides of sandwiches before grilling, or even as a moistening agent in chocolate cake.
OLIVES AND CAPERS
Think of the pickles and preserved vegetables aisle as a way to add a spunky, acidic component to anything that needs a little leveling up. For starters, keep olives (such as pitted kalamata olives) and capers around for adding to salads, pasta dishes, and sauces. Experiment to find the kind you like best.
CUMIN, RED PEPPER FLAKES, CINNAMON, GARLIC POWDER, CURRY POWDER
You know spices add flavor. Since they do lose their punch over time, try to buy them only as you need them, so they stay as fresh as possible. Keep on hand only those that you'll use the most. Start with cumin, red pepper flakes, cinnamon, garlic powder, and curry powder, adding or subtracting based on what you use most often, but don't overbuy.
ALL-PURPOSE FLOUR
The vast majority of baking relies on all-purpose flour, which is just that–a flour whose gluten and protein levels are meant for all kinds of baking, from breads and pizza crust to muffins and cakes. Look for a local producer (like Cairnsprings Mills), because freshness does matter. Keep flour well sealed between uses.
GRANULATED, BROWN, & CONFECTIONERS' SUGAR; HONEY & MAPLE SYRUP
For baking, sweeteners aren't as interchangeable as you might think; the different textures of various sugars change the way baked goods rise and react with each other. For that reason, it's useful to have an assortment on hand so you can follow recipes exactly. Most bakers use granulated sugar, light brown sugar, and confectioners' sugar most frequently, but honey and maple syrup are also more flavorful, less refined alternatives that are gaining popularity in baking.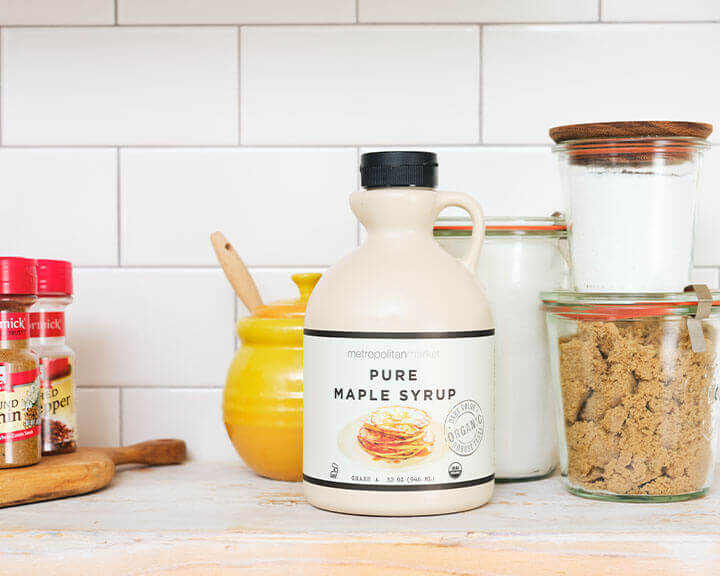 COCONUT MILK
For making sauces and simmering meats and tofu, always stash a can or two of coconut milk. It's also a good secret ingredient in cocktails and smoothies, a great way to add body to smooth vegetable soups, and a delicious base for cooking rice. Note that the full-fat kind has much more flavor. Also, coconut milk separates naturally in the can, so don't be surprised when half the can's contents are solid upon opening.