The Goods
It's Wedding Season
Inspiration for your big day
May 18, 2022
|

by Brooklynn Johnson
If you've ever watched a family member or friend plan a wedding, or even planned one yourself, you know it takes a village to pull off. Metropolitan Market offers several creative solutions to make the big day a little easier, and a little more unique.
Floral Arrangements
Whether you just need a couple bouquets for the bridal party or enough blooms to transform your venue into a garden-like wonderland, the floral team at Metropolitan Market is ready to work with you. Bouquets, table arrangements, boutonnieres…even delivery is taken care of. The floral designers are creative and careful experienced professionals; they only use the best quality blooms and stick to your budget. It's an incredibly collaborative process; sit down with a florist, mood board and inspiration photos in hand, and you'll think of something beautiful together. Contact your store's florist early – about three months out for larger orders – due to popularity and demand.
The Cookie Cake
Not a fan of traditional wedding cake? Take Seattle's favorite chocolate chip cookie and turn it into the wedding 'cake' of your dreams. Bulk order The Cookie through any Metropolitan Market Bakery, find a multi-tiered cupcake/dessert stand at a local party store, and stack it high on your big day. Guests will love to grab them en route to the dance floor.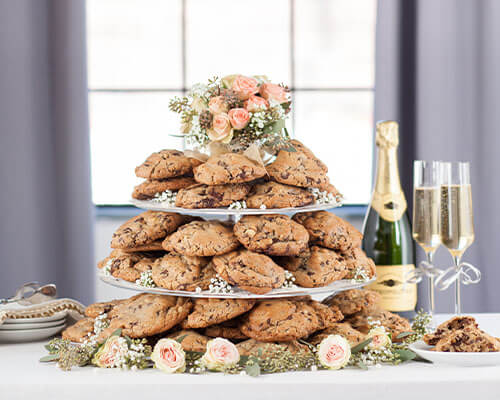 Metropolitain Champagne
It's the official drink of celebrations! Each year Metropolitan Market brings in three exclusive cuvees from the Marne Champagne district of France – a pure Chardonnay vintage, the Chardonnay-Pinot Noir blend, and a gorgeous sparkling Rosé. The grapes are all premier cru, or "first growth," meaning they are of the highest quality possible, so you can raise a glass to the happy couple in style.
Not Your Everyday Cheesecake
Look again – that isn't a cheesecake, but a cake of cheese. Talk about a statement! Imagine one of these towering beauties at cocktail hour, or a wedding shower. Custom made with the best soft-ripened cheeses of the season (perhaps brie, or Humboldt Fog), this sky-high cheeseboard is available in two sizes – the larger of which feeds up to 80 people. Work with expert cheesemongers at any of Metropolitan Market's locations to order yours.