Meet The Maker
Mark McNeilly
Mark McNeilly on Wine: Don't Cellar – Celebrate!
March 24, 2022
|

by Denise Sakaki
The man behind Mark Ryan Winery is a motorcycle-riding, seafood risotto-cooking winemaker who focuses on what he loves and isn't afraid to throw a wrench in the works if it results in a fine glass of wine that everyone can enjoy. Old World sensibilities lean towards collecting and cellaring wines for years, but Mark Ryan McNeilly is part of a more modern (and enjoyable) approach: "It's a delicious beverage to share with friends. I don't want coveted wines, I want consumed wines," noting that he'd just assume get two cases of a high-quality vintage to enjoy immediately for a dinner party, versus locking the precious bottles away in a cellar.
Planting the Seed
Before Mark McNeilly was one of Washington's most well-known and highly celebrated winemakers, he was a student who worked his way through school waiting tables and bartending, initially learning about wine from the perspective he values to this day — the people who enjoy it. It piqued his interest to the point where he set aside academia to take a job with the wine distribution industry, learning about the business side of wine, while taking chemistry courses on the weekends – all "pre-Google," he notes — and beginning to tinker with homemade wines. All of this was during a time when Washington was primarily known for its apples, but McNeilly could recognize the region's agricultural potential for much more. He approaches winemaking from a comprehensive attitude, noting that some of his favorite vintners in Europe identify themselves as farmers first, winemakers second.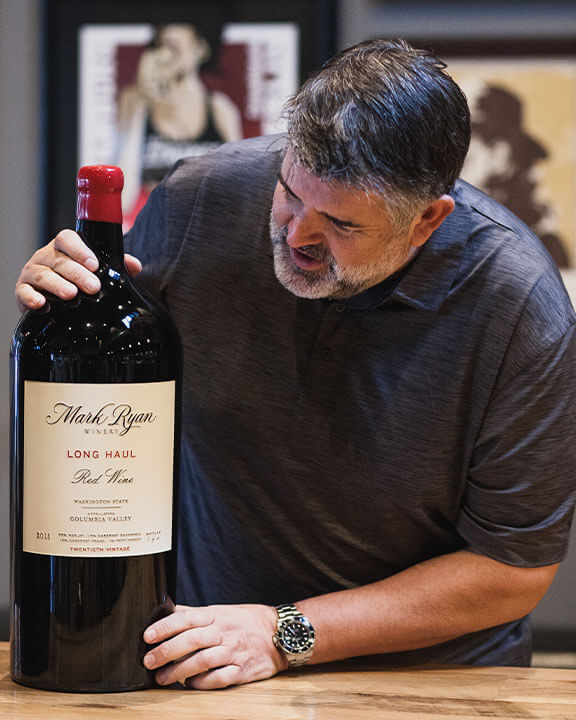 Notes of Inspiration
People are naturally drawn to things that are created with passion, and McNeilly's popular wines express what excite him as a vintner, like the full-bodied, "big red" Dead Horse Cabernet Sauvignon, one of their original releases since the winery's inception (it's sourced from the Ciel du Cheval Red Mountain vineyard, or "horse in the heavens," but Dead Horse is an attention-grabber, right?). And the red blend, Monkey Wrench, holds a special place in McNeilly's rock n' roll heart. The name was inspired by a favorite Foo Fighters song that has a beat few can avoid rocking out to, and the wine itself is equally irresistible. A balanced blend of Columbia Valley-sourced varietals, its 2018 vintage scored a 91 by Wine Enthusiast; Monkey Wrench is a beautifully composed, enjoy-it-today wine that McNeilly has been urged by guests at formal events to raise the price to $50 (it retails for $32), so that the price tag reflects its distinct quality. Which is exactly why Monkey Wrench remains in that rare space of skillfully made wine at an affordable price. McNeilly believes wine should be approachable and encourages curiosity without the fear of overspending on hype.
Aging Well
Twenty years later, McNeilly has a well-rounded team, aware of the forward-thinking necessary for an aged product; they had developed long term, growth-focused production models that spanned several years, serving the winery well as they weathered some of the worst of the recent economic storms amid the pandemic. Avoiding layoffs, the winery was also able to increase their workforce, and McNeilly is the first one to express gratitude over the support of the community at large.
Mark McNeilly remains grounded to the things that matter most – not just wine, but his family (he's got a side project called Megan Anne Cellars, named after his wife), he indulges in his love of seafood by either cooking or catching it, and is never shy about proclaiming his love of the open road and open skies of Walla Walla, riding atop a vintage Triumph motorcycle. He had a friend's 1932 Indian Chief motorcycle displayed proudly at his Woodinville tasting room for a couple of years, and several wine labels have featured motorbike illustrations. "I've been accused of creating a giant man cave, but people love it, and I love being in it," McNeilly says of his tasting rooms, which exude a welcoming and personal quality, much like his wines, and that's not something to hide away in a dusty cellar.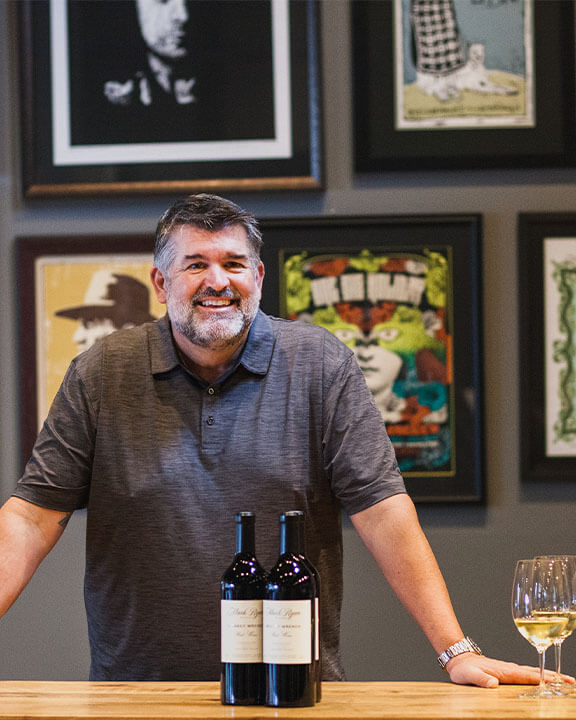 On the Horizon
So what's next for Mark Ryan? As of October '21, the winery announced a new tasting room in Woodinville, breaking ground with fellow Washington winemakers from Fidelitas, Long Shadows, and Latta wines. McNeilly shares, "We're incredibly excited to have this awesome new space for our loyal fans & new customers. We keep approaching all the growth we're experiencing at Mark Ryan the same as we always have, with authenticity & commitment to quality. We can't wait to have you come and experience that in our new tasting room space, drinking Mark Ryan wine."
Woodinville | 14475 Redmond – Woodinville Rd NE, Woodinville, WA 98072
Walla Walla | 26 E. Main St. Ste 1, Walla Walla, WA 99362