The Goods
Your Kitchen Supplies Wish List
10 Kitchen Supplies to Upgrade Your Space
September 21, 2022
|

by Brooklynn Johnson
Looking for something new to take your kitchen to the next level? According to Metropolitan Market's very own Housewares Specialist, Jenny, these are the best finds for your home. From storage solutions to cooking tools, find your new go-to items.
Staub Dutch Oven
"I purchased one ten years ago and it still looks the same," says Jenny. There's a reason these French cocottes (also called Dutch ovens) are the gold standard for slow-roasting, outside of the fact that they last forever. They're made from cast-iron, popular for its heat-retaining ability, and have specially designed spikes on the inside of the lid, which circulates moisture back onto the food.
Rice and Grains Cooker from GreenPan
This pot lives somewhere between a traditional pot and a full-blown rice cooker. It uses GreenPan's best nonstick coating, so no scraping sticky or stuck-on rice from the sides. The tall sides help circulate heat, which creates fluffy grains each time.
Le Parfait Canning and Storage Jars
Hot take: Jars don't get the attention or credit they deserve. One humble jar can have a hundred uses; storage, canning, gifting, etc. The ones from Le Parfait are super solid, well-designed jars.
Food Huggers
"I love these little food savers," says Jenny. "The lemon and lime holder work so well and perfectly seal your halves with no leaks. The avocado one works wonders too!" These little storage wonders are microwave safe, freezer safe, and dish washer safe, and they help cut down on single-use plastics.
Mepal Storage Bowls
If you're low on kitchen space, these are a MUST! Stack 'em, microwave 'em, freeze 'em, and toss 'em in the dishwasher. Available in a variety of sizes and colors, with matching leakproof lids. Plus, they look great on the table, so you can go from fridge to dinner without dirtying up an extra dish.
Duralex Picardie Glasses
These are the most durable glasses you will ever own, everyone needs a set. That's one reason every restaurant and bar seems to have them. But it certainly doesn't hurt that the glass is tempered, making them suitable for hot or cold drinks, and they stack!
Custom Colored Ceramics from Emile Henry
"I love the colors that Emile Henry created special for Metropolitan Market," says Jenny, noting this beautiful, exclusive green color. Made in France from all-natural ceramic, these bowls, cruets, and pitchers are just as elegant as they are practical.
Geometry Tea Towels
These tea towels will ruin every other dishcloth for you. There's a lot to love here, but the biggie is their Geoweave ™ fabric, which has an ultra-soft, tight weave which creates an increased drying/cleaning surface area. This towel is magic, I swear, because it somehow absorbs 7x its weight in liquid, but it's also quick drying, so it won't sit around and get smelly.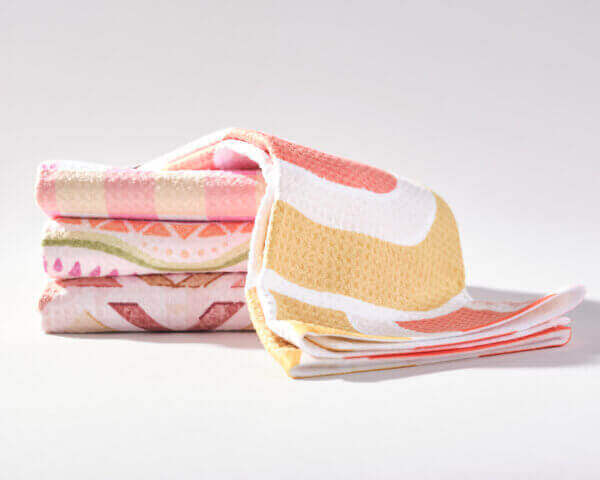 Capri Blue Volcano Candle
"I love burning this candle anywhere in my home, says Jenny, "The vessel is also so beautiful and makes a wonderful gift." Enjoy their signatures citrus + sugar scent in the iconic blue jar.
FinaMill
A regular, manual spice grinder will never be the same after you use the FinaMill, ie. the Cadillac of pepper grinders. With electronic handheld features and changeable pods, it's a kitchen tool for the techies.