Best of MET
your new favorite thing
We're proud to present our can't-miss collection of extraordinary products, handpicked by our expert buyers with our customers in mind. Each item represents years of hard work and the highest degree of commitment, both by our talented team members and by the makers themselves. From pantry provisions to fresh-made standbys, these are the secrets that become staples.
Fresh-Stretched
Mozzarella
Every morning, you can find our expert cheesemongers stretching batches of mozzarella by hand. This soft cheese is beloved for its versatility.
Balsamic
Vinegar
Rich and complex with a beautiful, thick consistency, our authentic balsamic hails directly from Modena, Italy. Drizzle on everything, even ice cream.
Organic Extra Virgin
Olive Oil
Three generations of growers harvest the ripe organic olives right before they are cold-extracted and bottled, making it Extra Virgin.
Peach-O-Rama
These peaches have become a widely anticipated summertime tradition over the past twenty years. Get a taste of the sweetest peaches of the summer.
The Cookie
Ooey, gooey, crunchy, and sweet, it's the cookie of your dreams. Seattle's legendary chocolate chip cookie is more chocolate than cookie, and it's served warm all day long.
Hummingbird Cake
Savor this Southern classic, featuring four layers of cinnamon spice cake packed with banana, pineapple, and pecans, and finished generously with our famous browned butter penuche icing.
Bakewell Tart
Our take on the British classic starts with a buttery pastry crust filled with a layer of raspberry jam, followed by extra-rich frangipane and finished with sliced almonds and powdered sugar.
Poke Bar
Like a salad bar, it's a fully customizable experience. Build a bowl of real Hawaiian-style poke with favorites like Spicy Ahi or the Shrimp and Mango Salad.
Rotisserie Chicken
These high-quality birds are seasoned to perfection before making their way into the in-store flame rotisseries, where they emerge hot and fresh throughout the day.
Prime Rib Sandwich
Hand-carved to order, this satisfying sandwich is piled high with perfectly-pink, flame-roasted prime rib from Painted Hills Natural Beef, a heralded Northwest ranch.
Dungeness Crab Cakes
The quintessential Northwest crab cake. Freshly made in-store from real West Coast Dungeness, with a light panko bread crumb crust to give it that crispy texture on the outside.
Experience the Best
Once you try these premium products, you'll be hooked. From special tastings to meet-the-maker events, you're invited to experience every flavor of Best of Met.
#bestofmet
Our coveted Best of Met list is alive and changing as new favorites emerge. We want YOU to tell us what should be included. Use #bestofmet to share your own Met Market favorites.
@all.purpose.flour.child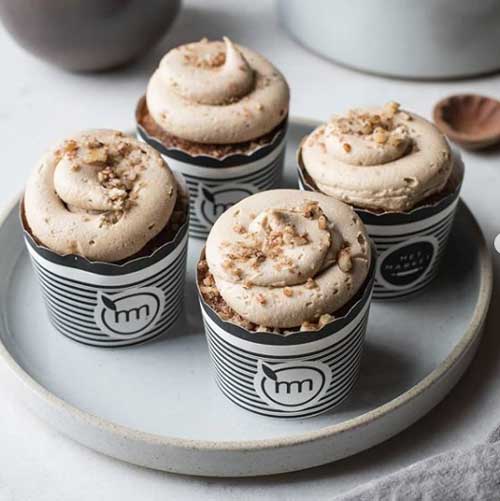 @flourishingfoodie
@msrachelteodoro
@eating.crow
@stephforrer
@seaofeats